About Us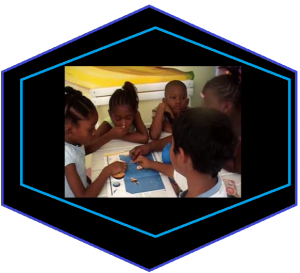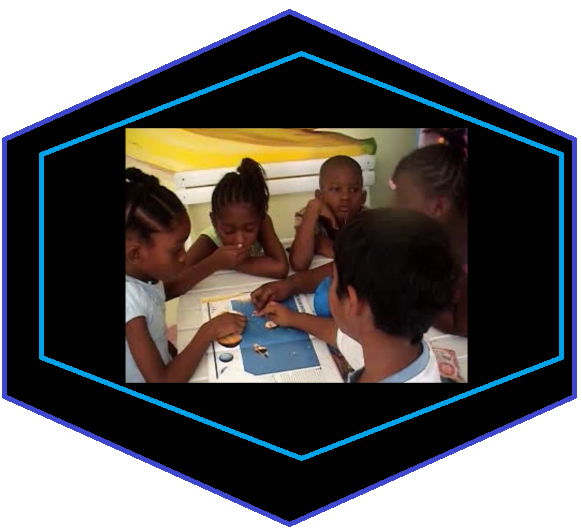 We provide an educational site mainly for children with the most vital and up dated features necessary for effective and efficient learning. Some of these features include :
  Inclusiveness & accessibility for all including the visually or hearing  impaired.
  Artificial Intelligent modules to monitor  the progress of students and make recommendations.
  Complete customization of topics, languages, etc. possible.
  Expert advice from the experts and the users.
The information and activities on the website is also available as an App for un-connected devices.
These activities can be modified and customized for individuals or institutions with specialized material or content. 
News paper Articles / Letters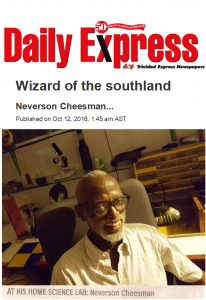 At age seven, many decades ago, when pennies and cents were common currencies, a young Neverson Cheesman was enthralled by an object that another boy brought to school one day. Absolutely clueless to what it was, but mystified by its design, Neverson offered his hard earned savings of five cents in exchange for this mysterious object. After some infantile investigation and eventually taking it all apart he learned that it was a nine volt battery. That was the beginning of this little boy's curiosity in the world of science and technology. In his first year of training abroad he failed his courses. This was the first big lesson for him in determination. "I went into this university not knowing what to expect. The subject matter was extremely new and foreign to me. However by the second term I was called the wiz by my professors as I sometimes solved issues even the professors there couldn't figure out"
A systems analyst by profession Neverson's passion is programming and robotics. He believes strongly that computers and robotics are the perfect tools to educate the differently abled and to address issues like autism and blindness. In one instance he created a programme that assisted the blind by using an interactive computer interface. Neverson has over a dozen robots that he programmed in his idiosyncratic lab in San Fernando. On entering, you are greeted by a life size figure dressed in army gear seemingly guarding the doorway to his secret science hideaway. The small but crammed space is overrun by robots and gadgets of many kinds and genres. Some are repurposed and re-engineered to suit his unusual taste. Asked about his work with official institutions he remarked quite solemnly that though he tried on several occasions to have an input and offer solutions to science and technology often it is met with a dismissive attitude by those in charge.
Upon reflection, Neverson is one of our many hidden gems in Trinidad and Tobago who we neither acknowledge nor give the honour of celebrating, until it is too late. He does not fit the "normal" model of what the society deems a "professional" in the field. Unfortunately in this society of ours, your value is based on your network or your net worth and either way this does not often come from an authentic place. Advising young people he says humbly: "Do something you like, service is good. I am simply a life form trying to be blissful." As we walked out of this amazing, creative and innovative space, I couldn't help but feel that in another place, Neverson would have been embraced in a training institution and given a platform to be himself, to innovate and to share his amazing knowledge with our youths and given a hefty salary to do so. Neverson Cheesman will be showing off his robots and presenting at the Animae Caribe Festival on October 28 and 29 at the University of Trinidad and Tobago Academy for Performing Arts. Check www.animaecaribe.com for more information.
News paper article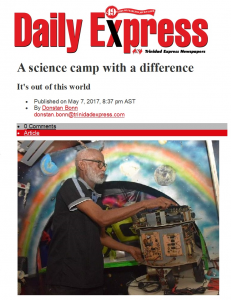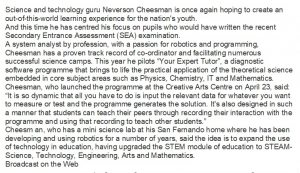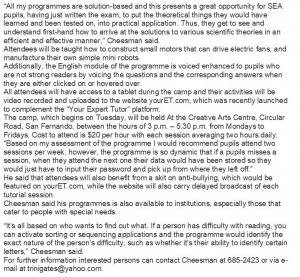 Our First Drama Production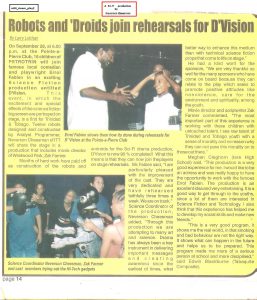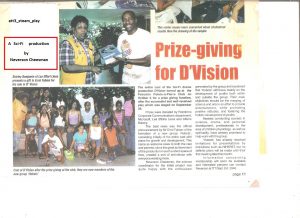 Minister Of Education – Letters Of Appreciation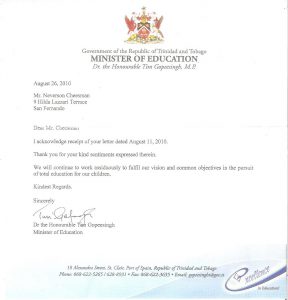 Mayor Of San Fernando